ギリシャのカラマタ地方はオリーブの生産で有名な所です。そのカラマタ地方にはカラマノリという小さい村があり、昔から職人さんがオリーブオイルの製造で生計を立てておりました。私の祖父ディミトリオスもその一人でした。
私はこのオリーブオイルで育ち、毎年11月に新しいオリーブオイルができるのを楽しみにしていました。
パンにつけて食べてみれば、その年のオリーブの出来がどうなのか分かりました。それからそのオリーブオイルを暖かいスープの仕上げにテーブルで少し入れると、ふあっと香りが立ち、幸せな気分になりました。
祖父が遺したオリーブ畑は、現在は職人のカチアスさんがオリーブひとつぶひとつぶ大切に扱いながら、オリーブオイルを作ってくれています。
日本に来て住むようになって、妻、子どもたちにもこのオリーブオイルを食べさせたい、また、私によくしてくれた日本の人たちにも伝えたいと考え始めました。
今年ようやくこの思いが実現しました。思い入れのあるオリーブオイルを日本のみなさんに食べていただくことができるようになり、カラマノリ村の職人さんも、私も誇りに思っています。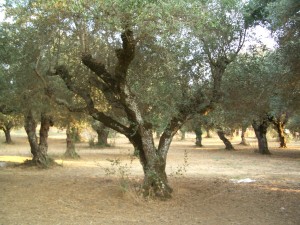 Kalamata is a very famous olive oil producing area of Greece. Within this area there is a small vilage called Karamanoli, were a few hundred famillies make their leaving by producing olive oil.
My grandfather was one of them.I was raised with this olive oil.
Every year in November we used to wait for the fresh olive oil to arrive from Karamanoli.
When it arrived, we would taste it plain on bread, to check the quality of that year's produce.
Then, we would add it to a plate of hot soup, to enjoy it's unique smell. My grandfather died living to me one part of the olive field, currently cultivated by the oil producer familly of mr. Katsias.
Coming over to live in Japan, I deeply wanted to have a chance for my familly and friends to taste this olive oil.This year, my wish was finally realised as we started to import this olive oil to Japan.
Both the oil producers of Karamanoli and me, we are gratefull that you selected our olive oil for your cooking.