材料 / Ingredient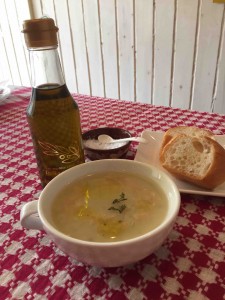 いんげん豆(乾燥、大粒)500g
玉ねぎ 2個
にんじん 2本
じゃがいも 3個
セロリ 1本
ローリエ 1枚
オリーブオイル 大さじ5
塩こしょう
500g big-sized dry haricot beans
2 onions
2 carrots
3 potatoes
1 stick of celery
1 piece of bay leaf
5 tablespoonfuls olive oil
salt and pepper
作り方/Direction
①乾燥豆を水につけ、一晩おく。
②水を換えて豆をゆでる。沸騰したら水を捨て、また新しい水でゆでる。これを2〜3回繰り返す。
③玉ねぎ、にんじん、じゃがいもを一口大に切り、オリーブオイルで炒める。
④水を加え豆、野菜がやわらかくなりかけてきたらセロリを入れる。
⑤最後に塩、こしょうで味付けをし、食べる直前にオリーブオイルをかけてどうぞ。
①Let the dry bean soak overnight in water.
②Change the water and boil the beans. And then, throw the boiling water and boil the new water again. It should be repeated 2~3 times.
③Cut onions, carrots and potatoes into bite-size pieces and then, saute them in the olive oil.
④Add water and beans with a pot of ③, put celery after the vegetables are almost stewed.
⑤Dressed with salt and paper, and put some olive oil just before eating.