日本のドリアと同じです。
今回は本来のベシャメルの変わりに、豆腐ととろろのベシャメル、おもちを入れました。
野菜たっぷり栄養たっぷり。子どもからお年寄りまで誰にでもおいしく食べていただける逸品です。
Many kinds of vegetables in the dish, so this is popular among young and old alike.
This time, I used tofu Béchamel and rice cake.  I hope you like it!
材料3人分/Ingredient for 3 persons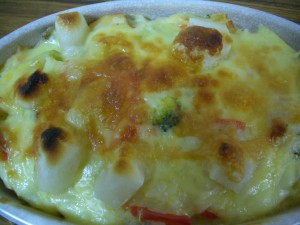 ご飯 茶碗3杯(余っている冷や飯で十分です)
玉ねぎ 1/3個
赤ピーマン 1/4個
ブロッコリー 5〜6房(茹でて食べやすい大きさに切っておく)
もち 2切
ピザチーズ 150g
オリーブオイル 大さじ1
3 bowls of leftover rice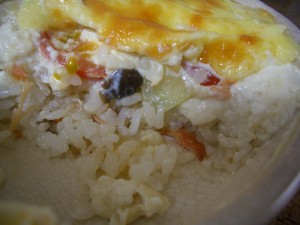 1/3 onion
1/4 red red paprika
5~6 florets of broccoli (boil and cut it into bite-size pieces)
2 pieces of rice cake
150g pizza cheese
1 tablespoonful olive oil
豆腐ベシャメル/Tofu Bechamel
豆腐ベシャメルのレシピをご覧ください。
Please see the recipe of Tofu Bechamel.
作り方/Direction
①玉ねぎ、赤ピーマンは大きめのみじん切りし、しんなりするまでオリーブオイルで炒める。
②ご飯を入れさらに炒める。
③ご飯にオイルがまわったらブロッコリーを入れ、塩、こしょうで味を整える。
④水分を切った豆腐、とろろをフードプロセッサーを使ってなめらかにし、塩、こしょう、ナツメグ、オリーブオイル少々を混ぜて豆腐ベシャメルを作る。
⑤耐熱皿に③のご飯、豆腐ベシャメル、1cm角に切ったもち、ピザチーズの順に重ねて、オーブントースターでチーズに焼き色がつくまで10分ほど焼く。
お好みでタバスコをかけて、熱々をお召し上がりください!
※野菜は冷蔵庫にあるもの、ピーマン、にんじん、きのこ類などなんでも合います。
①Onion and red paprika are coarsely-chopped, and fry them with olive oil.
②Mix and fry with rice.
③When rices are coated with the oil, put broccoli, salt and pepper.
④Let's make Tofu Bechamel.
⑤Layer rice, tofu bechamel, 1 cm square rice cake and pizza cheese on a gratin dish, and then bake it until bubbling and golden on the top.
※Take a look a fridge before you cook, any vegetables such as green pepper, carrot or mushrooms are also good with this meal.