"Apokries" is the Greek word for carnival.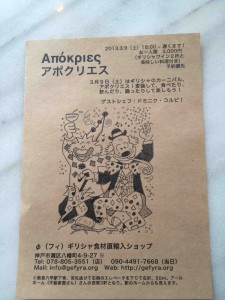 Come join us for a real carnival party night Greek-style at our shop φ(phi) at Rokko, Kobe!
– Come dressed in Costumes/Masks, like Halloween!
Not only kids, adults want to have some fun too! Maids, vampires, pirates… everybody is welcome. You can still participate even if not dressed, but… come on, be creative!
– Let's dance: Greek dance, rock, salsa, samba… It is party time!
Wherever Greeks party, there is always dance. But, except from greek dances… hey, this is carnival, definitely samba and salsa. DO NOT MISS: Later, we will have the pleasure to watch Maya-chan dancing belly dance!
– Food, REALLY GOOD  FOOD! Guest Chef: Dominique Corby
Apart from the delicious greek food prepared by us and Maira-chan, the attraction of the night is, of course, the food prepared by the famous French Michelin chef  Dominique Corby, coming specially from Tokyo on this day, to party with us!
– Wine, REALLY GOOD WINE!
Exceptionally good Retsina wine, delicious Malagouzia and Cabernet-Merlot-Shyraz. For those who had enough of the alcohol, there is the delicious flavoured tea from the famous Ocharaka tea-shop at Kichijyouji, Tokyo. The owner and sommelier, Stephan Danton will be here with us that night!
So… what are you waiting for, come join us and let's have fun!
March 9th (Sat.) 18:00 ~ late:-)
Adults: ¥3,000 incl. 2 glasses of delicious greek wine and one plate of lovely food. Additional food&wine available ¥500~
Kids: ¥1,000
φ(phi)
Yahata-cho 4-9-27, Nada, Kobe 657-0051
just next to Hankyu Rokko station, south side
Tel/Fax: 078-805-3551 (on that day 090-6245-6413 or 090-4491-7668)