ギリシャではオムレツもスクランブルエッグもオムレツと呼びます。見た目より味を重視するギリシャ人は、卵料理も強火でパッパと作ります。
フェタチーズ、トマト、オリーブオイルを使ったギリシャらしいお料理。誰にでも簡単にできます。朝食にいかがですか?
Both of omelet and scrambled eggs are called omelet in Greece. It is very Greek foods using feta cheese, tomatoes and olive oil. Would you like for breakfast? It takes only 10 minutes to cook.
材料2人分/Ingredients for 2 persons
卵 3個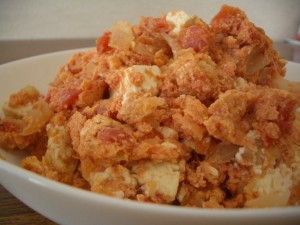 トマト 中1個
玉ねぎ 1/2個
フェタチーズ 100g
オリーブオイル 大さじ2
塩、こしょう
3 eggs
1 tomato
1/2 onion
100g feta cheese
2 tablespoonfuls olive oil
salt and pepper
作り方/Directions
①玉ねぎは大きめのみじん切り、トマトはざく切り、フェタチーズは一口大にしておく。
②玉ねぎをオリーブオイル大さじ1で炒め、トマト、フェタチーズを入れる。
③トマトが沸騰したら溶きほぐした卵を流し込む。
④塩、こしょうで味を調え、卵に火が通ったら出来上がり。最後に大さじ1のオリーブオイルをかけてお召し上がりください!
①Cut the onion and feta cheese into small pieces and the tomatoes should be coarsely-chopped.
②Fry the onion with olive oil, and put the tomatoes and feta cheese in it.
③When tomatoes are boiling, pour the beaten egg in the pan.
④Add salt and pepper to taste. When the eggs are cooked enough, turn off the heat. Put some olive oil just before eat!